Epibenthic sledge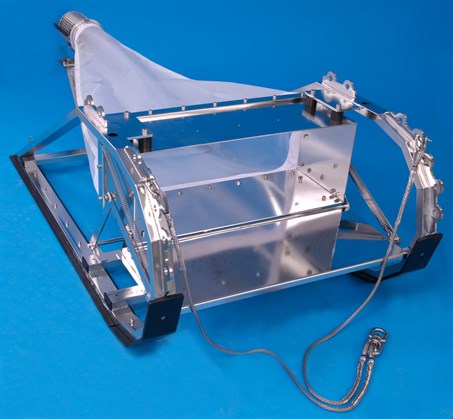 Application:
The Epibenthic sledge is a system for sampling benthic and benthopelagic faunas.
The sledge contsists of a a rectangular aluminium frame (sea water resistant) with a mesh net attached to it. When towed along the seabed, its weight scrapes into the benthos, collecting any organisms on the surface or in the first centimetres of the sediment.
Details of the closing mechanism.
A mechanically operated flap closes the net and opens when the sledge touches the bottom.

The net will also collect the organisms in the water column just above the benthos.
The net bucket, stainless steel. O.D. 110 mm. Mesh size 500 µm. The inner net is protected by a stainless steel net, mesh size 10 mm.
Detail of 3-point briddle.
Optional:
Camera with light and battery pack.
Detail:
Camera, (to the left), light and battery box.
| | |
| --- | --- |
| | 2400 cm² |
| Ordering no: | 19.750 |
| Box for net bag: | AISI 304 stainless steel |
| Frame: | Aluminium, AW 6060 T6 |
| Opening: | 800 x 300 mm (0,240 m²) |
| Net bag: | Mesh size 500 µm |
| Net bag, length: | 500 cm |
| Protection for net bag: | 4 mm rubber plate |
| Dimensions, L x W x H: | 170 x 110 x 60 cm |
---
Source: KC Denmark A/S