KC stainless steel sieves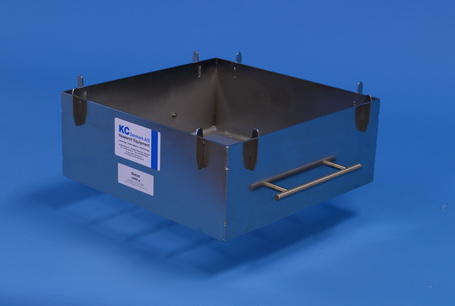 KC stainless steel sieves
Side frame: 1 mm AISI 316 stainless steel
Bottom frame: 3 mm AISI 316 stainless steel
Finish: Electro polish.
Handles
The sieves are stackable
Reinforcement for the net
Dimensions, w/o handles:
L x W x H: 40 x 40 x 16 cm
Weight: 7,7 kg
Standard net sizes are 500, 1000, 1500 or 2000 µm. Other sizes upon request.
12.305 Rack with funnel for Sieves
The rack is used for 12.300 Day grab, as well as our 12.xxx Van Veen series of grabs.
12.110 Van Veen 250 cm²
12.210 Van Veen 1000 cm²
12.310 Van Veen 2000 cm²
12.300 Day Grab 1000 cm²
| | | | |
| --- | --- | --- | --- |
| Dimensions | Weight | Mesh size | Ordering No. |
| 40 x 40 x 16 cm | 7,7 kg | 500 µm | 12.306 |
| 40 x 40 x 16 cm | 7,7 kg | 1000 µm | 12.307 |
| 40 x 40 x 16 cm | 7,7 kg | 1500 µm | 12.308 |
| 40 x 40 x 16 cm | 7,7 kg | 2000 µm | 12.309 |