Niskin water sampler 1.7 to 12 liter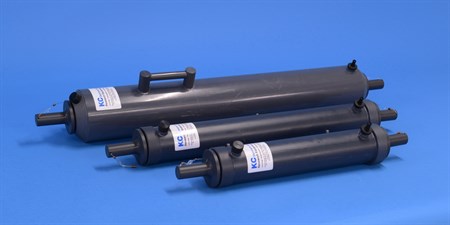 Niskin bottles for rosette racks.
We provide two different models of Niskin water samplers:
Series 60.xxx: This bottle comes with a 400 g drop messenger and it can be used singly by adding a counterweight at the end of the deployment line. Alternatively, you can use centre hanger 60.002 + drop messenger 60.004. These bottles can be attached in series and releasing the drop messenger allow all bottles to close corrspondingly.
Series 61.xxx: These bottles are intended for using on the Niskin rosette rack. The bottles are equal to the 60.xxx series but comes without 60.001 drop messenger and M10 bolts. Adding 60.001 drop messenger and 2 pcs of 60.003 M10 bolts converts the bottle into 60.xxx series.
61.100 - 1,7 L Niskin water sampler:
• PVC
• Free flow construction
• Length, closed: 650 mm
• Weight: 2,7 kg
61.200 - 2,5 L Niskin water sampler:

• PVC
• Free flow construction
• Length, closed: 865 mm
• Weight: 3,3 kg
61.300 - 5 L Niskin water sampler:
• PVC
• Handle
• Length, closed: 720 mm
• Weight: 4,2 kg
61.400 - 7,5 L Niskin water sampler:

• PVC
• Handle
• Length, closed: 920 mm
• Weight: 6,0 kg
61.500 - 10 L Niskin water sampler:

• PVC
• Handle
• Length, closed: 1110 mm
• Weight: 8,0 kg
61.600 - 12 L Niskin water sampler:

• PVC
• Handle
• Length, closed: 1300 mm
• Weight: 9,0 kg
---
Source: KC Denmark A/S