Box Corer 1000 cm²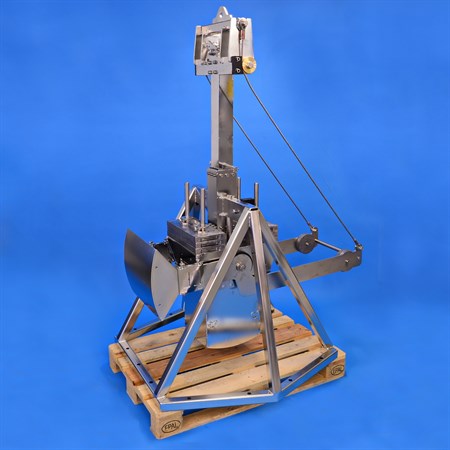 General

The box corer frame is manufactured from 50 x 50 x 4 mm square AISI 316 stainless steel tube and finish is electro polish. The sample tube (3) is made of 4 mm electropolished AISI 316 stainless steel.
Areas of sample tubes available are:
600 cm²: 29 x 20,7 cm
1000 cm²: 34,5 x 29 cm
The main racks for 600 cm² and 1000 cm² are identical and by changing some items you have the availability of both sizes.
Penetration depth of both tubes is 40 cm.
Function

During descent, insertion and sampling, the top of the sample tube remains open allowing a free flow of water. This prevents pressure build-up and following disturbance of the sediment surface.

After landing on the seabed, and the sample tube has reached its maximum depth, an automatic mechanism releases the closing shovel. The shovel is drawn into vertical position so that the bottom of the tube is closed and the sample is kept inside.

On withdrawal from the seabed, the top of the sample tube is closed and sealed by a hinged flap with a soft rubber packing.
A complete KC BOX CORER includes a frame (1), six lead weights and a standard sample tube (3) with sealing flap, inner shovel and closing shovel.

A special sample tube with an additional removable front plate and adjustable drainage holes, is available on request.
| | |
| --- | --- |
| Description: | |
| Box Corer frame | 50 x 50 x 5 mm square tube, AISI 316 stainless steel |
| Mounting and releaser | AISI 316 stainless steel |
| Sample tube | 4 mm electro polished AISI 316 stainless steel |
| Shovel and shovel arms | AISI 316 stainless steel |
| Wires | AISI 316 stainless steel |
| Wire guidance | Brass/Polypropylene |
| Weights | Lead |
| | |
| Dimensions: | |
| Frame: | |
| Width & breadth | 110 x 80 cm |
| Height | 110 cm |
| Total height of fully mounted Box Corer | 210 cm |
| Total height of box corer when the sample has been taken | App. 3,10 m |
| Shipping, dimensions and weights | 162 x 92 x 158 cm, gross weight 510 kg |
| | |
| Sample tubes (optional) | |
| 600 cm2: | 29 x 20,7 cm |
| 1000 cm2: | 34,5 x 29 cm |
| | |
| Weight: | |
| Total weight of complete Box Corer with 6 weights (600 cm2): | App. 320 kg |
| Total weight of complete Box Corer with 6 weights (1000 cm2): | App. 340 kg |
| Weight of each lead weight on weight station: | 20 kg. |
| | |
| --- | --- |
| Description | Ordering No. |
| Box Corer, complete, 600 cm², consist of: 1 pc box rack, 1 pc 600 cm² box sample tube AISI 316 stainless steel, standard inner shovel and 6 pcs. 20 kg lead weights (120 kg) | 80.000 |
| | |
| Spare parts for 600 cm² | |
| Sample tube, AISI 316 stainless steel, standard 600 cm² | 80.001 |
| Special sample tube (AISI 316 stainless steel), 600 cm² with removable front plate | 80.002 |
| Inner shovel for 600 cm², AISI 316 stainless steel, weight 3,2 kg | 80.003 |
| Small carriage for sample tube transport, AISI 316 stainless steel | 80.004 |
| Lead weight, 20 kg. each | 80.200 |
| | |
| | |
| Box Corer, complete, 1000 cm², consist of: 1 pc box rack, 1 pc 1000 cm² box sample tube AISI 316 stainless steel, standard inner shovel and 6 pcs. 20 kg lead weights (120 kg) | 80.100 |
| | |
| Spare parts for 1000 cm² | |
| Sample tube, AISI 316 stainless steel, standard 1000 cm² | 80.101 |
| Special sample tube (AISI 316 stainless steel), 1000 cm² with removable front plate | 80.102 |
| Inner shovel for 1000 cm², AISI 316 stainless steel, weight 4,2 kg | 80.103 |
| Lead weight, 20 kg. each | 80.200 |
| Small carriage for sample tube transport, AISI 316 stainless steel | 80.300 |