Van Veen Grab 2500 cm²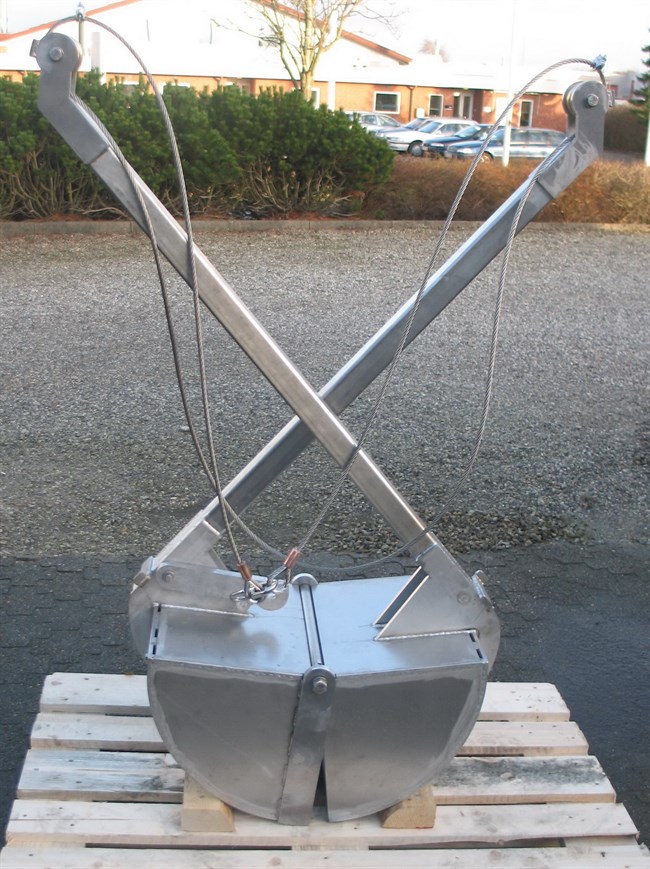 Gallery:
Application:
Sampler for collecting bottom sediments for biological, hydrological and environmental studies.

General:
The Van Veen grab is based on the Van Veen design. The Van Veen grab is made of AISI 316 stainless steel and the surface is electro polished. The grab itself is manufactured from 3 mm plate (250 cm²), 4 mm for 1000 cm² and 8 mm for a 2000 or 2500 cm².
Sizes:
There are 4 sizes of Van Veen:
12.110 - 250 cm², (0,025 m²)
12.210 - 1000 cm², (0,1 m²)
12.310 - 2000 cm², (0,2 m²)
12.410 - 2500 cm², (0,25 m²)

Lids:
The small models are delivered with 4 lids and the biggest type of 0,2 m² has 2 lids available. By opening the lid(s) it is possible to take out one or more undisturbed sample to have a look at the stratification of the sediment without releasing the whole sample. See A/B on schematic:
Ordering No.
12.410
Sample area
2500 cm²
Sample volume
82 L
Materials
AISI 316 stainless steel. The grab = 8 mm
The arms are manufactured from square tube, 60 x 60 x 4 mm with 12 mm reinforcements
Lead weights

4 x 12,5 kg, optinal

Recommended wire
6 - 8 mm
Dimensions
Open: L x W x H: 238 x 54 x 60 cm
Closed: L x W x H: 90 x 54 x 145 cm
Lids
4 lids, All lids have the stainless steel mesh and the rubber flaps
Net weight
125 kg
Pallet for shipping
L x W x H: 120 x 80 x 176 cm