Newsletter 2016
Newsletter, February 2016
At KC Denmark A/S, we have had a successful and prosperous 2015, and on behalf of the KC team, I will like to express our gratitude for the huge effort that you and all our partners have done for promoting our products.
A new face at KC Denmark A/S.
Because of the increasing numbers of enquiries and paperwork, I am very happy to present a new colleague at our office, Mr. Bent Nohr. He was employed back in November 2015 and some of you have already been in contact with him. Bent, aged mid-fifties, is very engaged and professional and in his spare time, he loves joining outdoor activities like fishing, hunting and sailing. Our sales manager, Karsten Jensen is still at the office, now getting more time for the complex and time-consuming projects.
Price list 2016.
Sadly, we couldn't avoid a price increase; most products have an increase of 3 % approx., and for a few products the rise is even larger. Previous agreements for commission are of course still valid.
Direct download of price list/quotations.
The attached "Links.PDF" shows more links for direct download of the most recent price list, quotations in Word as well as PDF format, manuals and our product presentation. Furthermore, you will find all photos used for this PDF file. You are welcome to use and distribute all these files, but please observe that a few photos has a copyright information and please don't delete those details. As always, you are also welcome to request high-resolution photos of our products (also available in RAW/NEF format).
New products.
Below you will find details for a few products developed during 2015.
Winches.
Two powerful models with a power of 18,5 and 37 kW have been developed. The photo
shows a winch with 4000 m of 10 mm steel wire.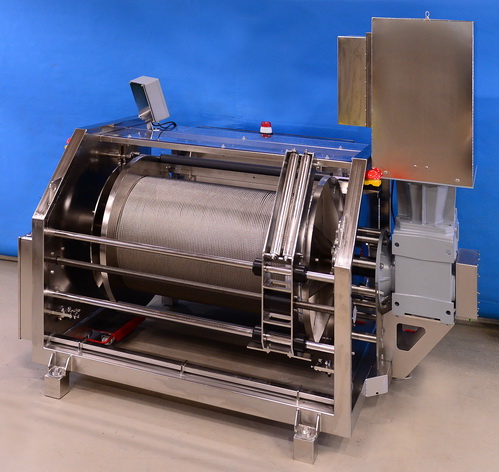 Slip ring, new design.
We can now present a new design for our slip ring and the mechanical design is compatible with some of the Focal slip rings. Winches, with capacity from 2,2 kW up to 37 kW now provide support for this design, but the previous slip ring design can still be attached (a small adapter plate is required).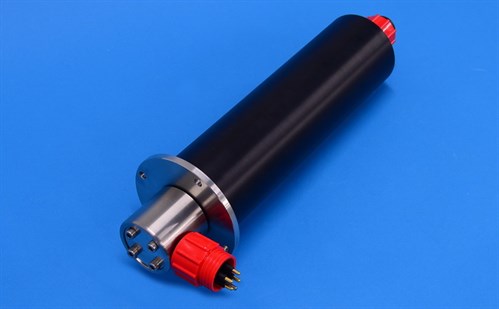 Van Veen grab, 1000 cm².
We have added reinforcements on the arms and at the inner side of the shovels.
All 12.210 grabs delivered after August 1, 2014 can easily be upgraded with steel mesh
and rubber flaps according to the Norwegian ISO norm.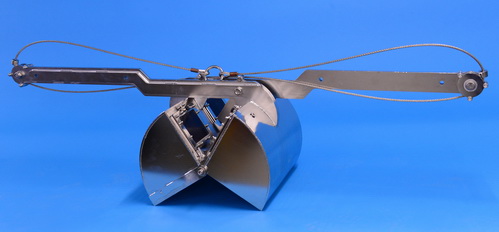 Sediment trap.
A large funnel area of 0,5 m2 and a collecting bottle of 5 L gives the opportunity of collecting huge quantities, and using AISI 316 stainless steel for all components allows a long-term deployment at sea.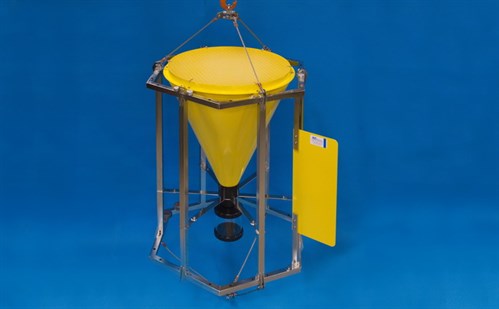 Triangle dredge.
A new design having an easier replacement of the net bags.



Sea Flume.
New design for the sea flume for max. 400 m depth. It's a device for in-situ studies of threshold, erosion velocity and erosional behavior of undisturbed marine muds. Supports a huge variety of probes, etc.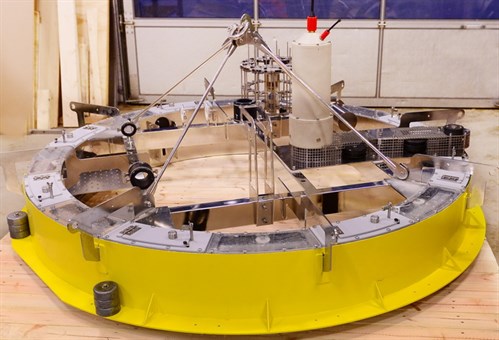 Variable penetration for multi corer and box corers.
We have developed an adjustable bracket so you can determine the penetration depth before deployment - sorry, no photos yet.