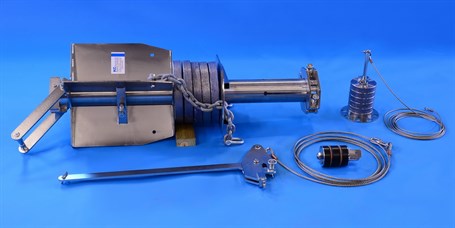 13.600 - Piston Corer:
Application:
The Piston corer takes up to 2 m deep undisturbed samples from soft sediment and up to 4 m deep samples from muddy sediment.




13.600 Piston corer, complete, consists of:
• 1 pc piston body, (A) upper part
• 1 pc Kullenberg releaser (E/G) with 30 kg release weight
• 1 pc wire
• 2 lead weights (28 kg each), room for max. 10 pcs
• 1 pc safety lock for coring tube (C)
• 1 piston (8)
• Total weight of main rack: 270 kg
• AISI 316 stainless steel
• Maximum weight without the core tube: Up to 410 kg with additional weights
• Note: Corer tube(s) are not included. To be ordered separately.
Description:
Position numbers refer to the schematic below.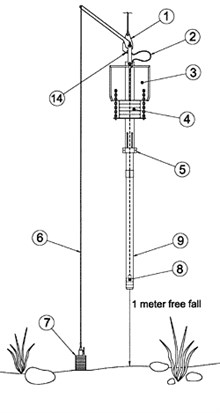 An AISI 316 stainless steel heavy-duty releaser (pos. 1), based on the Kullenberg principle, is mounted at the top. Up to 10 lead weights (pos. 4) of 28 kg each can be mounted. The upper part of the corer is made of AISI 316 stainless steel.

The corer tube (pos. 9) is either made of AISI 316 stainless steel (Ø104/99 mm) or transparent PVC plastic (Ø110/99 mm). At the end of the releaser hook (pos. 1) the 30 kg release weight (pos. 7) is mounted.

At the bottom of the corer tube a piston (pos. 8) with a leather seal is positioned. The piston is connected to the releaser (pos. 1) by a Ø8 mm AISI 316 stainless steel wire. During operation, the corer tube (pos. 9) is released 1,7 m above the sediment as the releaser weight reaches the sediment surface. The wire (pos. 8), which has a slack of about 1 m, allows the corer tube to fall free until the piston (pos. 7) is activated just before the corer tube enters the sediment. The penetration depth can be regulated by the total weight load (pos. 4). When the sample is to be retrieved, the tube is positioned at two trestles and a piston rod (pos. 12), operated by an AISI 316 stainless steel ratchet, presses out the sediment sample for slicing.
Piston corer - other dimensions:
For other alternatives, we suggest looking at our Gravity Corers. They all support an extension kit, adding piston corer functionality thus having a versatile 2 in 1 product where you can switch forth and back within few minutes. Furthermore, you will be able to use longer sample tubes.