Day Grab 1000 cm²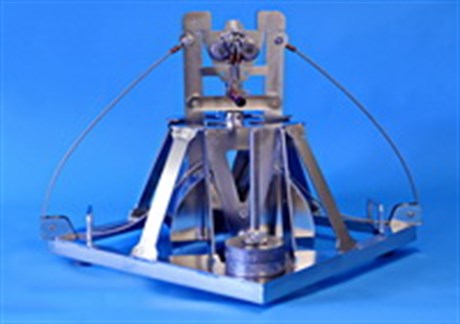 12.300 - Day Grab - 1000 cm²:
General:
The main frame, grab and releaser are manufactured from AISI 316 stainless steel with an electro polished surface, with overall dimensions of 70 x 70 x 70 cm. Standard delivery: 75 kg inclusive 4 lead weights.
Application:

The Day Grab is highly suitable for taking well-defined samples from hard as well as soft sediments.




Sample volume:

Approx. 15 L of sediment.




Sample area:

1000 cm²




Operational depth:
Full oceanographic depth (no limit)




Wire recommendation:
Ø6 mm stainless steel wire, for deployment.




Camera option:
For a max. depth of 500 m it is possible adding our camera and light option (requires a bracket).

Lids/Shovel:
On top of the grab are mounted 4 pcs of lids, (120 x 120 mm each), so you can take out some sample without emptying the grab.
The inner shovel is based on KC-Denmark's Van Veen Grab 1000 cm² design and is made out of 6 mm AISI 316 stainless steel.
Weight:
The operational weight between 55 and 165 kg (exclusive the sediment sample) demands winch operation. You can mount a maximum of 22 pcs lead weights, 5 kg each. Standard delivery includes 4 pcs of weights.
The 4 frames can hold a maxium of 8 pc lead weights each (2 on each frame as shown on photo). Each of the two lead weight stations can hold 8 pc of lead weights giving it a total weight of 165 kg.
- Exclusive lead weights: 55 kg
- Standard delivery: 75 kg inclusive 4 lead weights
- Maximum weight: (22 pcs of weights): 165 kg
Safety split:
The Day Grab is equipped with a security clip to avoid an unintended release of the grab causing injury.
Emptying or loading the Day Grab:
Rack with protection grating. Heavy-duty design so you can empty or load Van Veen, Ekman and other grabs. Diameter of stainless steel bars: 10 mm. Space between the bars: 15 mm.
Room for 3 stackable sieves, to be ordered separately. Weight, no sieves: 50 kg. For more information please read here: 12.305 Rack with funnel for Sieves
Description
Ordering No.
A complete Day grab consist of 1 pc rack with 1 pc grab of 1000 cm² and 4 pcs lead weights, each 5 kg. Sample volume: 15 L. Total weight of 75 kg.
12.300
Accessories
Lead weight, 5 kg each. It is recommended to add 2 pcs at a time to keep the balance of the Day Grab. (2 diagonally placed weight stations for the weights.

Maximum mounting: 22 pcs (inclusive standard delivery of 4 pcs).

80.407
Shipping weight and measurements
L x B x H:
120 x 80 x 96 cm. Gross weight (inclusive 4 lead weights) 173 kg incl. pallet.


---
Source: KC Denmark A/S