Stainless steel sieves, stackable, 40 x 40 cm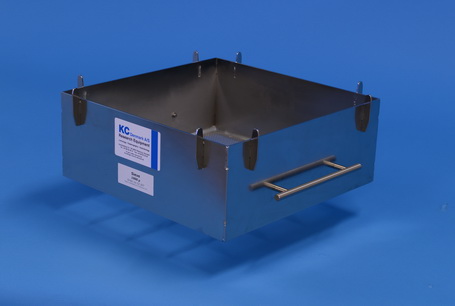 12.30X series - Stainless steel sieves with square holes:

Side frame: 1 mm AISI 316 stainless steel
Bottom frame: 3 mm AISI 316 stainless steel
Finish: Electro polish.
Handles
The sieves are stackable
Reinforcement for the net
Dimensions, w/o handles:
L x W x H: 40 x 40 x 16 cm
Weight: 7,7 kg
Standard net sizes are 500, 1000, 1500 or 2000 µm.
Other sizes on request.
12.307 R - Stainless steel sieve, round holes
Same specifications as before-mentioned sieves
Acc. to Norwegian ISO norm NS 9410
Mesh size: 1000 µm
Small stackable filter, diameter 190 mm, click
here
.
Rack with funnel for sieves:
The rack has a very strong grating, a funnel and support for max. 3 stackable sieves, series 12.30X (to be ordered separately).
It is primarily used for loading/emptying Day Grabs, but can be used for Ekman and Van Veen grabs as well.
The rack is available in two sizes as follows:
12.305 for 12.300 Day Grab (1000 cm²):
• Dimensions: L x W x H: 75 x 75 x 100 cm
• Weight: 50 kg
12.305 A for 12.301 Day Grab (2000 cm²):
• Dimensions: L x W x H: 100 x 100 x 100 cm
• Weight: 75 kg
| | | | |
| --- | --- | --- | --- |
| Dimensions | Weight | Mesh size | Ordering No. |
| 40 x 40 x 16 cm | 7,7 kg | 500 µm | 12.306 |
| 40 x 40 x 16 cm | 7,7 kg | 1000 µm | 12.307 |
| 40 x 40 x 16 cm | 7,7 kg | 1500 µm | 12.308 |
| 40 x 40 x 16 cm | 7,7 kg | 2000 µm | 12.309 |