Deep Sea Profiler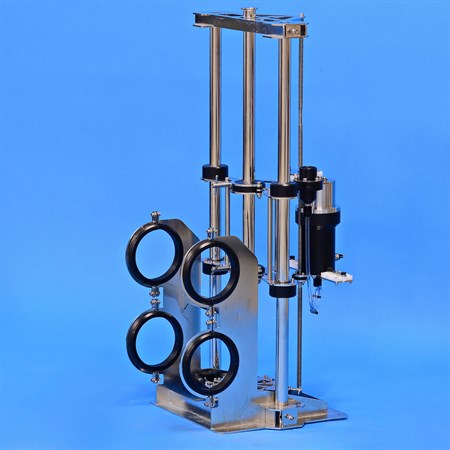 500.135 - Deep sea profiling system for 6000 m depth:
Application:
The profiler can adapt to a lander system, and it can make water field measurements of micro profiles of for example O2, pH, H2S, N2O, H2, redox and resistivity. The profiler can be submerged to a depth of 6000 m and runs completely autonomously (demands additional software). The profiler comes with a robust and accurate motor system for profiling. Vertical resolution: 0,05 mm (0,025 mm on request).

General:
With many years of experience in adapting sensors and electronics for rough conditions and a strong collaboration within submarine instrumentation with Unisense, we offer a high quality solution for micro profiling and incubation studies in the deep sea. The rack has room for a battery cylinder and various electronics. We do not provide any software but the profiler comes with schematics so you can design your own interface.
In this video, Dr. Kanchan Maiti, associate professor in the LSU Department of Oceanography & Coastal Sciences, discusses how the microprofiler works and what the samples it collects can tell us about our wetlands.

On www.unisense.com you will find contact details for Unisense, and they offer more options as follows:
Technical specifications:
• Max. depth: 6000 m
• Power supply: 24 V DC
• Rack made from AISI 316 stainless steel
• Vertical resolution: 0,05 mm (0,025 mm on request)
• Vertical movement: Max. 360 mm
• Motor having separate unit for pressure balancing
• Automated profiling measurements of up to eight different analytes
• Unisense In Situ Amplifier and Connector System for easy handling
• Powerful Unisense Field DataLogger
• System programming via easy and intuitive PC software interface
• Robust and accurate motor systems for profiling
• Workshop and training at Unisense
• Footprint: 360 x 360 mm
• Inklusiv brackets for for batteri and electronics: 360 x 540 mm
• Height, min.: 950 mm
• Height, max.: 1170 mm
• Weight: 28 kg (no battery and electronics)