Digital Flow Meter with back-run stop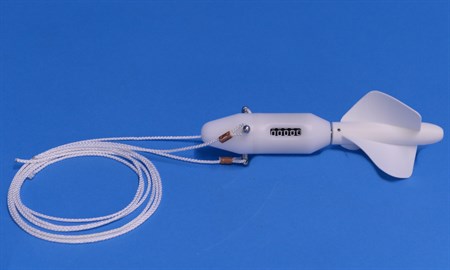 23.091 - Flow meter with back-run stop:

For determining the amount of water passing through a plankton net or a pipe.

The back-run stop is recommended for a vertical tow of the plankton net. When lowering the net, the flow meter does not count; it will only count when the net is drawn back through the water column. For a horizontal pull you can also use flow meter 23.090.
Diameter of propeller/counter body: 70/32 mm, length 185 mm, 5-digit counter; easy installation by a triple point connection of the nosepiece.
The construction is based on a free flooding design, so it can be used for full (unlimited) oceanographic depth.
The flow meter read-out (max. value 99999) vs. water volume can be calculated using our spreadsheet allowing a quick and intuitive conversion regardless if the shape is circular, square or rectangular. Find the spreadsheet here.
| | |
| --- | --- |
| General | |
| Flow meter | Recommended for vertical pull |
| Material | |
| Rotor | Polyamide, PA 6.6 Nylon rotor |
| Nose cone | POM Plastic |
| Body | POM plastic |
| Gear shaft | Stainless steel main rotor |
| Dimensions | |
| Overall length | 19,0 cm |
| Standard rotor diameter | 7,5 cm |
| Other data | |
| Depth rating | Unlimited (free flooding) |
| Data read out | Five ten-digit counter wheels reading 00000 to 99999. One count per rotor revolution |
| Counter | 99999 counts, equal approx. 16,2 nautical miles. The counter cannot be reset. If you need to reset the counter you must use 23.090. |
| Mounting | Universal bridle allowing 3 point connection |
| Threshold | 20 cm/sec |
| Range | 20 cm/sec to 8,0 meter/sec |