Manta trawl net, 30 x 15 cm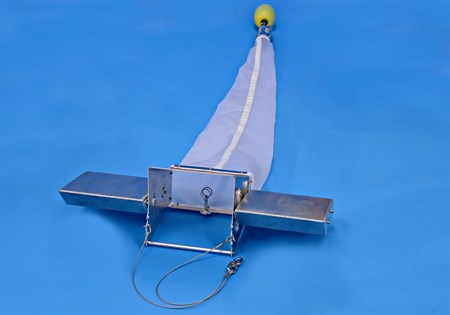 23.440 - Manta trawl net, 30 x 15 cm:
Application:
A manta trawl is a net system for sampling the surface of the ocean. The net it pulls is made of thin mesh, and the net is useful for collecting samples from the surface of the ocean, such as sampling of micro plastic. Standard delivery comes with mesh size 300 µm. Other sizes on request. A pair of wings bolted onto an inner frame which serve to lift the net frame so that samples are efficiently collected at the top of the water column. More adjustments for the vings and the bridle allows various sampling heights.
The sample cylinder is made of AISI 316 stainless steel and it comes with a small buoyancy so it remains in horizontal position during the sampling. It has 5 windows covered by steel net; the mesh size is equal to the main net.
General:
• Aperture size: 30 x 15 cm
• Length, excl. bridle: 235 cm
• Length, incl. bridle: 285 cm
• Manufactured from sea water resistant aluminium
• Mesh size 300 µm; other sizes on request
• Support for mechanical flow meter 23.090
(requires bracket 23.440 B)
• Incl. sample cylinder 23.442 and a buoyancy
• Adjustable buoyancy height to sample on the water surface
• Max. recommended towing speed: 3 knots
• Weight: 9,75 kg (10,25 kg incl. flow meter)
Digital flow meter:

• Exclusive back-run stop
• Counter: 5 digits
• Diameter of propeller and counter body: Ø70/32 mm
• Length: 190 mm
• Depth rating: Unlimited (free floding)
• 99999 counts, equal approx. 16,2 nautical miles
• Threshold: 20 cm/sec
• Range: 20 cm/sec to 8,0 m/sec
• Recommended for horizontal operation
• Weight: 0,5 kg