Vacuum Filtration System 6 chambers 0,5 L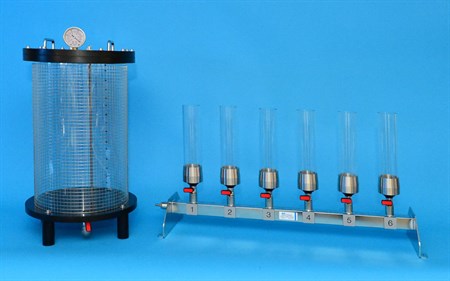 22.050 - Vacuum filtration station:

All bottles are detachable and each bottle has its own ball valve so it can be used individually. AISI 316 stainless steel.
Vacuum pump and tank for excess water to be ordered separately.
L x W x H, incl. chambers: 85 x 24 x 44 cm, weight: 10,1 kg.
Capacity:
6 acrylic chambers, 0,5 L each. Acrylic tubes, OD/ID: 60/52 mm. Bottom part: AISI 316 stainless steel, height 240 mm, weight: 0,9 kg.
Filter:
Standard Ø47 mm filter paper; on request the unit can also be provided for Ø25 and Ø35 mm filter.
22.051 A - Water tank:
A small water tank to collect any excess of water is optional. For protection of the vacuum pump, the tank has a drainage with a valve.
Contents: 15 L.
Diameter: 36 cm
Height: 47 cm
Weight 9,9 kg
Other sizes on request.
22.051 - Water tank:
A small water tank to collect any excess of water is optional. For protection of the vacuum pump, the tank has a drainage with a valve.
Contents: 30 L
Diameter: 36 cm
Height: 71 cm
Weight: 11,1 kg
Other sizes on request