Ekman Bottom Grabs 225 cm2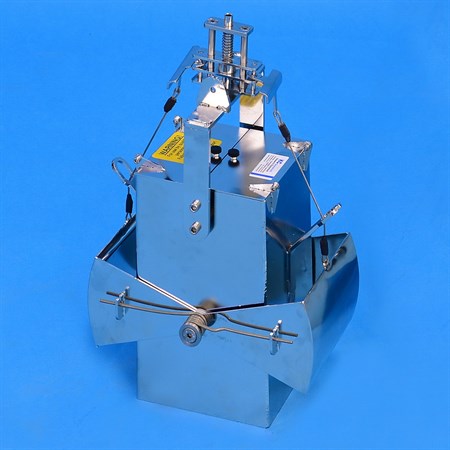 12.000 - Ekman sediment sampler - 225 cm² - sample volume up to 5 L:

The Ekman bottom corer is based on the Ekman design. The sediment sampler is made of AISI 316 stainless steel.
To be deployed by means of a cord, recommended diameter 5 mm. Comes with a loading tool and a drop messenger for closing the grab.
By adding the 12.006 pole (length 2 + 2 m) the grab can be inserted manually into the sediment and closed by pulling the line.
The Ekman grab is available with a larger sample area of 400 cm² and a volume of 12 L, for more details click here.
Loading tool for 12.000 Ekman Grab:

The tool (12.004-1) allows a secure loading of the 12.000 Ekman. Click here for a video.
Ordering No.
12.000
12.002 - 400 cm² sample area

Sample volume
5 L
Sample area
225 cm²
400 cm²
Drop messenger, brass
500 g
None (not necessary)
Height, loaded

45 cm
65 cm

Weight
5,6 kg
18 kg
Extra weights
None
4 x 2 kg or 8 x 2 kg (total weight of corer: 26 or 34 kg)
Spare parts
Drop messenger, brass,
Ø3,2 x 9 cm, 500 gr
Ordering no. 12.001
Spring for model 12.000 only, requires 2 pcs
Ordering no. 12.003