Sandblast cabin, magnifying glass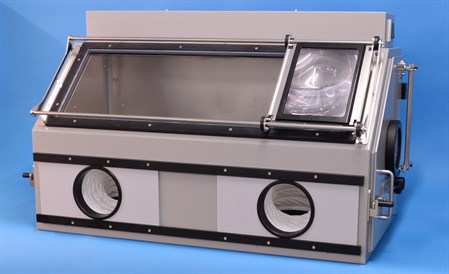 400.400 - Sandblast cabin, 100 cm, no recycling of powder, with a movable magnifying glass:
Application:
Sandblast cabin without powder reservoir for recycling of sandblasting material. Can be used for all types of powder, (glass-powder, aluminium oxide (corundum), sand-powder and similar powder)). Cabin made of 3 mm aluminium plate. (Almg 3). The back side of the cabin has an extraction (square tube) with a pipe stub.
Description:
The front has 2 adjustable glove manifolds, flexible hoses and inside a plastic ring with a 2 mm slitted neophrene rubber plate. On the sloping front edge, a 3 mm glass plate is mounted in a plastic frame with packing.

Both ends of the cabin has a huge door and the right door has an air scoop and 2 pcs of small wall ducts. The doors are tightened with a special soft PVC packing.

The bottom of the cabin comes with 3 removable stainless steel trays with 5 x 5 mm holes.
Built-in light:
A box on the top contains 2 fluorescent tubes, 2 x 40 W, (colour code 33) and a switch for the light. A glass plate with packing is mounted on the top of the cabin. Dimensions 90 x 20 cm.
Adjustment of height:
Adjustment of height: 20 cm with 2 pcs of 24 Volt DC actuators (optional).
Dimensions:

Outer dimensions: L x W x H: 114 x 65 x 66 cm
Weight: 48 kg.