Van Dorn water sampler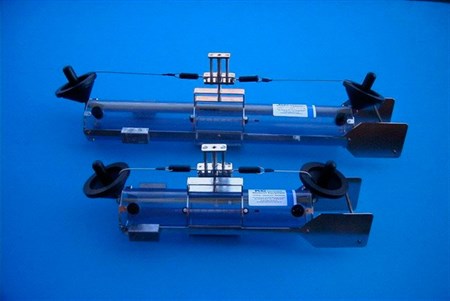 11.xxx series - Van Dorn water samplers 2, 3 and 5 L:



Application:

The horizontal Van Dorn water sampler is intended for taking water samples near the bottom in lakes, streams, or in stratified water bodies. The water sampler is based on the Van Dorn design. When the 2 rubber end covers are released, they are held together by a rubber strap.
The sampler is made of a sturdy transparent acrylic tube and has a double releaser, activated by a drop messenger. The release system is manufactured from AISI 316 stainless steel. The Van Dorn comes with the drop messenger.
All Van Dorn models have been re-designed for better performance and now the steering fins are integrated into the sampler, ensuring a better stabilization in flowing water.
Thermometer:

The water sampler comes with a standard, non-mercury thermometer, with a temperature range between - 10 and + 60 degrees oC (1 degree indications on the scale).



Drop messenger:

Brass, 500 g, is included. used on a Ø5mm line.




Lines:

Polyester lines, Ø5 mm can be supplied as unmarked line or marked each meter. Please see our section for lines and handwinches.
Description:
Ordering No.
2,0 L, incl. steering fins and drop messenger:
11.100
3,0 L, incl. steering fins and drop messenger:
11.200
5,0 L, incl. steering fins and drop messenger:
11.300
Dimensions:
2,0 L
3,0 L
5,0 L
Diameter of tube (O.D./I.D.):
110/100 mm
110/100 mm
110/100 mm
Drop messenger brass:
500 g
500 g
500 g
Length:
450 mm
580 mm
830 mm
Total weight:
4,4 kg
5,1 kg
7,2 kg
Do not use alcohol for cleaning acrylic parts. The sampler must be released below the water surface. Releasing above the water may cause damage to the system.