WP2 net Ø57/70/75 cm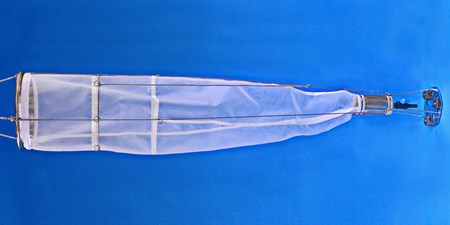 23.100 - WP-2 plankton net, diameter 57, 70 or 75 cm:
The WP-2 plankton net can be equipped with a digital flow meter (optional) for determing the amount of water passing through the plankton net. Available models 23.090 (no back-run stop) and 23.091 with back-run stop.
Available models with diameter of 57, 70 or 75 cm:
23.100 - Ø57 cm, 0,25 m²
23.230 - Ø70 cm, 0,38 m² - Nansen closing net
23.240 - Ø75 cm, 0,44 m²
23.250 - Ø113 cm, 1,0 m² - WP-3 - Indian Ocean Standard Net

(A) "Nansen release mechanism" (to be ordered separately) for operating/closing plankton net by a 0,8 kg drop messenger.
(B) Three Nylon lines (6 mm diameter) with bridle and snap hook (length: 85 cm).
(C) Ring of AISI 316 stainless steel tubing with 3 loops for bridle and weight lines, 2 loops for an optional digital counter located in the middle of the opening. I.D. Ø57 cm = area of 0.25 m2
(D) AISI 316 stainless steel clamping fixture.
(E) Part a net: 200 µm Monodur Nytal (nylon) net with 6 loops for the 6 mm (diameter) nylon line closure rope. Cylindrical net length is 95 cm. Part b net is identical to a, but conically shaped. The length is 166 cm.
(F) AISI 316 stainless steel clamping fixture.
(G) Net bucket, based on the Hensen design. The bucket is made of a 160 mm (diameter) Polypropylene tubing with a plastic draining tap, 6 openings, (total area of 315 cm²), covered by a AISI 316 stainless steel net (mesh size similar to the main net), 1 round supporting rack bucket and 3 loops for lead weights.
(H) 3 Nylon lines for the weight with bridle and snap hook.
(I) Lead weights for net bucket (optional). Consists of 6 weights, each 2 kg. Total weight for net bucket 23 kg. The weight of the net bucket does not stress the net bag itself.
23.250-10 - Collecting bottle, closed:
• Dimenisons: Ø160 x 275 mm (295 mm incl. brackets)
• Weight: 1,8 kg
23.140 - Adapter for plastic bottle:
• Can be used as a replacement for 23.200 net bucket
• Support for 1 and 2 L plastic bottles (23.185 or 23.186)
• Made of AISI 316 stainless steel and Polypropylene
• Fits for WP-2 and WP-3 net
• Incl. 1 pc of 1 L bottle.
• Requires a set of nylon lines, 23.205 A


23.050 - Nansen releaser - (optional):
• When drawing the plankton net above the sea ground or in a specific height the Nansen releaser will close the net at this particular depth to avoid intrusion of sediments from other depths
• AISI 316 stainless steel
• Overall dimension (inclusive bolts): 240 x 105 x 50 mm
• Weight, exclusive drop messenger: 2,55 kg
• Weight, inclusive drop messenger: 3,35 kg
• Inclusive 23.070 drop messenger, 800 g (open/close)
Description
Ordering No.
WP 2 net, Ø570 mm, consists of: B, C, D, E, F, G, H (A and I not included). Standard mesh size of 200 µm. Other mesh sizes upon request. We recommend a minimum mesh size of 100 µm.
23.100
WP 2 net, Ø700 mm, consists of: B, C, D, E, F, G, H (A and I not included). Standard mesh size of 200 µm. Other mesh sizes upon request.
23.230
WP 2 net, Ø750 mm, consists of: B, C, D, E, F, G, H (A and I not included). Standard mesh size of 200 µm. Other mesh sizes upon request.
23.240
Accessories
(A) Nansen release mechanism (heavy duty model), incl. drop messenger 800 g for Nansen releaser
23.050
Drop messenger 800 g for Nansen releaser
23.070
(E) Net part, Ø570 mm, (a + b), 200 micron,

23.150
(E) Net part, Ø570 mm, (a + b), 50 or 100 µm,

23.151
(E) Net part, Ø700 mm, (a + b), 200 micron,

23.150-700
(E) Net part, Ø700 mm, (a + b), 50 or 100 µm,

23.151-700
(E) Net part, Ø750 mm, (a + b), 200 micron,

23.150-750
(E) Net part, Ø750 mm, (a + b), 50 or 100 µm,

23.151-750
(I) Set of lead weights, (12 kg) for net bucket
13.523-6
(G) Net bucket, complete, inclusive 3 lead weights, 2 kg each.
23.200
Digital flow meter, weight 0,5 kg. Recommended for horizontal pull.
23.090
Digital flow meter, with back-run stop, weight 0,5 kg. Can be used for vertical and horizontal pull.
23.091