Plankton pump for 150 m depth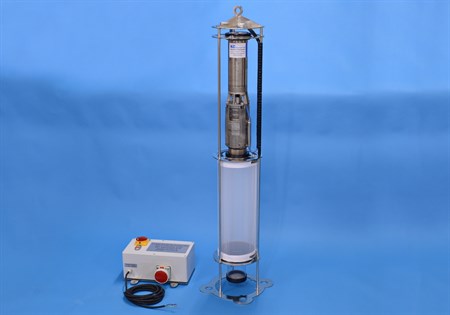 23.570 - Plankton pump for 150 m depth:
Application:
A plankton pump pumps up seawater via a waterpipe through a small net with a mesh size depending on the intended research object. On request, the nets are available in other mesh sizes. The standard pump is delivered with 60 µm net. Plankton is collected in the recipient below; a flow meter can be integrated as part of the pump (optional).
Usefulness of a plankton pump:
• Research on the distribution of plankton
• The use of a plankton pump is very advantageous for sampling plankton in shallow water (compared to the use of plankton nets)
• A plankton pump can be deployed at a specific location
• Delivers reliable measurements of the filtered volume

Capacity:
Capacity up to 26.000 L/hour (app. 433 L/min. at 0 m water column).

Max. depth:
Max. depth: 150 m.

Deployment:
Use a separate steel wire for the deployment; the cable for the power supply cannot hold the weight of the pump.
23.570 SPK - Service package for plankton pump: (optional)
3 x 23.570A - Net bag
2 x 23.572 - Collecting bottle
3 x 28.102 - Zinc anode
2 x 23.574 - Mounting clamps
Technical specifications:
• Power supply: 230 V AC
• Power consumption: 550 W
• Max. depth: 150 m. Standard delivery does not include any cable
• Capacity: Up to 26.000 L/hour (app. 433 L/min.)
• Optional: Flow meter of pumped volume (23.095)
• Pump: AISI 304 stainless steel
• Main rack: AISI 316 stainless steel
• Finish: Electro polish
• Comes with 3 pcs of zinc anodes (28.102)
• Net bag: Diameter Ø201 mm, length: 540 mm, mesh size: 60 µm
• Filtration area: 3000 cm²
• Dimensions for the control box: L x W x H: 36 x 30 x 15 cm
• Footprint for the pump: Max. 40 x 40 cm
• Height: 147 cm
• Weight (pump and cable): 30 kg
• Weight (control box): 6 kg
• Weight (total): 36 kg
23.573 A - Net bag:
• Mesh size: 60 µm, other sizes on request
• Material: Monudur HD Nytal
• Filtration area: 3000 cm²
• Diameter: Ø201 mm
• Length: 540 mm
23.095 - Flow meter with honeycomb (optional):
• Back-run stop (non-resetable)
• Counter with 5 digits
• Length of chamber: 250 mm
• Honeycomb made of ASA
• Details for calculating the water volume can be found here
23.572 - Collecting bottle:
• Material: Polycarbonate
• Contents: 1 L
• Mesh size: 60 µm (other mesh sizes on request)
• Protection for net: AISI 316 stainless steel, mesh size 10 x 10 mm
• Weight: 0,25 kg
Cable_4 - Cable for the pump:
• To be ordered with the pump
• 4 x 1,5 mm² rubber cable with 2 connectors
• Minimum order: 20 m
28.102 - Zinc anode:
• Zinc anode, Ø40 x 17 mm
• To avoid corrosion when used in salt water
• As standard, the pump comes with 3 zinc anodes