Small multi water sampler 12 x 100 ml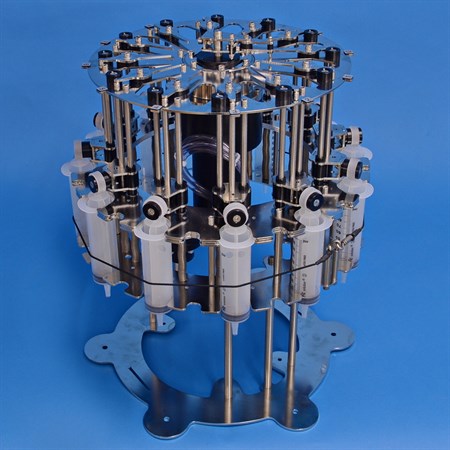 100.212 - Small multi water sampler, 12 x 100 ml:



General:

This is a new model multi water sampler with 12 pcs 100 ml syringes. The model can operate on 6000 meter depth.

Operating voltage is between 12 and 24 V DC. Every time the motor gets a pulse it will release one syringe. As option, a time lapsed trigger can be attached. The motor is pressure compensated for 6000 m depth.

The multi water sampler can be used on landers for taking samples from seabed or incubator chambers or placed on a ROV for taking samples over oil pipelines.




Specifications:


• Volume: 12 x 100 ml
• Deployment up to 12 months with the standard battery
• Reverse functionality (injection or suction function)
• Syringes: Nylon PA 6.6
• AISI 316 stainless steel
• Finish: Electro polish
• Programmable trigger can be mounted (optional). Interface: USB
• Max. depth: 6000 m with battery 100.226 or 4000 m with 100.217
• Power supply: 24 V DC, current 1 Amp
• Comes without cables, trigger, battery cylinder, etc.
• Time to fill a syringe: 10 sec.
• Diameter: 450 mm
• Height, loaded: 550 mm
• Height, released: 625 mm
• Weight: 24,5 kg
Programmable timer (optional):
General:

For individual release of max. 24 water samples. Can also be used for Niskin rosette rack, etc.




Delay:

The individual delay between every sample is fully programmable.



100.210 R1 - Rack for multi water sampler:
• Rack for mounting of 100.210 water sampler and battery cylinder
• AISI 316 stainless steel
• Finish: Electro polish
• Width, parallel sides: 560 mm
• Width, max.: 605 mm
• Height, loaded: 625 mm
• Height, released: 700 mm
• Weight, excl. sampler: 11,9 kg
• Weight, incl. sampler: 36,4 kg