Plankton net Ø50 cm - ARCTIC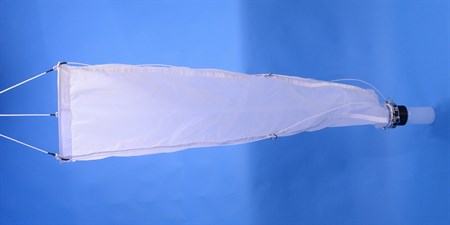 23.030 - Plankton net, Ø50 cm for arctic use:
The arctic net is developed for taking samples in arctic oceans which may contain porridge ice. An adapter supports direct sampling into plastic bottles with a content of either 1 or 2 L. Three lines holds the adapter and the bottle, so its weight does not stress the net bag itself.
• Outer diameter. 50 cm
• Length of net: 200 cm made of Monodur Nytal (Nylon)
• Length, overall: 280 cm
• Mesh size: 50 - 500 µm, order no. 23.030 or
• 20-40 µm, order no. 23.031, please specify on order
• Inclusive adapter 23.032 and 23.185 plastic bottle
The upper part of the net is made of strong Beaver nylon. Standard mounting with 3 pcs. of polyester line Ø5 mm with bridles, length 50 cm.


Plastic bottles:
• LD-PE, Kautex© 303 incl. screw cap
• Colour: Natural
• 23.185 - Contents 1 L
• 23.186 - Contents 2 L
Digital flow meter (not recommended if water contains ice):
The plankton net can be equipped with a digital flow meter (optional) for determing the amount of water passing through the plankton net. Available models 23.090 (no back-run stop) and 23.091 with back-run stop.