Sandblast Cabins 1500 mm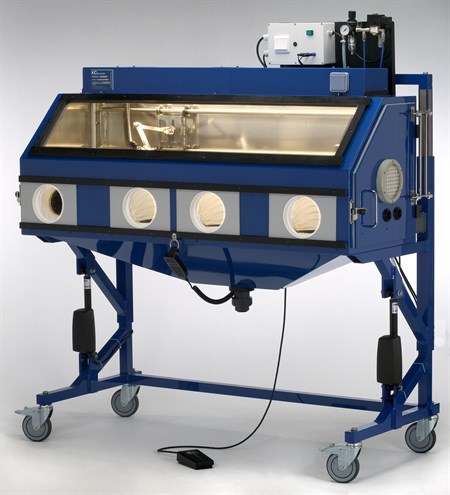 400.200 - Sandblast Cabin, with recycling of powder, length 150 cm:
Application:
Sandblast cabin with powder reservoir for recycling of sandblasting material. Can be used for all types of powder, (Glass-powder, aluminium oxide (corundum), sand-powder and similar powder)). Cabin made of 3 mm aluminium plate. (Almg 3). The back side of the cabin has an extraction (square tube) with a pipe stub.
Description:
On front are mounted 4 complete adjustable glove manifolds, flexible hoses and inside a plastic ring with a 2 mm slitted neophrene rubber plate. On the sloping front edge a 3 mm glass plate is mounted in a plastic frame with packing.

Both ends of the cabin has a huge door and the right door has an air scoop and 2 pcs of small wall ducts. The doors are tightened with a special soft PVC packing.

The bottom of the cabin comes with 3 removable stainless steel trays with 5 x 5 mm holes.
Built-in light:
On the exterior at the top are mounted a box with 2 fluorescent tubes, 2 x 40 W, (colour code 33) and a switch for the light. A glass plate with packing is mounted on the top of the cabin. Dimensions 120 x 20 cm.
Adjustment of height:
Adjustment of height: 20 cm with 2 pcs of 24 Volt DC actuators (optional).
Dimensions:
The cabin (inside): L x W x H: 150 x 50 x 55 cm
Cabin with mobile stand: L x W x H: App. 166 x 72 x 168 cm
Height, excl. control boxes: 147 cm, max. 168 cm with extended actuator
Height, incl. control boxes: 166 cm, max. 187 cm with extended actuator
Width (depth): 72 cm

Weight, incl. actuators: 108 kg

400.200 - Sand blast cabin. Shown with mobile stand and actuators for adjustment of height (optional). Painting of cabin is optional, (400.202).
Control panel with A compressed-air manifold with water filter, pressure gauge and solenoid valve.
Interior of the cabin with the sand jet blower. You can also see the adjustable halogen lamp mounted on a carriage guided by 2 pcs horizontal bars (optional).
400.070 - Ø4 mm Sand jet blower
400.080 - Ø4 mm Steel jet for jet sand blower.
400.200 - Sand blast cabin with custom painting.
Description
Ordering no.
Complete sandblast cabin, 1500 mm, with powder reservoir for recycling of sandblasting material. Cabin made of 3 mm unpainted aluminium plate. A sand jet blower, ø4 mm and foot pedal is included. Painting of cabin is optional. (400.202)

Dimensions: L x W x D: 150 x 50 x 55 cm.

400.200
Accessories

1 pc stable aluminium stand with 4 pcs 5" rubber wheels, 2 of them with brakes. Dimensions with mobile stand:

L x W x H: App. 160 x 65 x 170 cm

400.201
Painting of cabin. Colour at your choice.
400.202
Halogen lamp, 12 Volt DC in a adjustable, dustproof housing. Mounted on a carriage guided by 2 pcs horizontal bars.
400.203

Complete 24 Volt DC actuator system (2 pcs actuators, control box and remote control) for height adjustments mounted on stand and cabin. Maximum increase of height: 20 cm.

400.204
Spare parts
Ø4 mm sand jet blower made of black PVC
400.070
Ø4 mm steel jet for sand jet blower made of steel St-52-3 quality
400.080
2 mm thin slitted rubber plates for adjustable glove manifolds.
400.205
Foot pedal with wire (2 meter)
400.110
Reference list:

Museum conservator

Ebba Samuelsson

Studio Västsvensk Konservering

Gamlestadsvägen 2-4, B2

S-41502 Göteborg

Conservators

Ebba Samuelsson (left) and Annika Carlsson (right).

Photographer: Kenneth Christensen