Tripod with crossbar and winch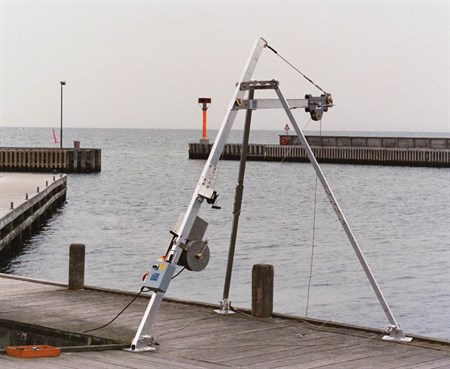 100.220 - Tripod with a crossbar and winch:
Tripod with a total height of 3,5 m and with a horizontally crossbar with a length of 160 cm. All legs are fully detachable from the tripod. For an easier transportation, the legs can be separated at the middle, making an overall length of app. 2 m. (Optional).
The bar is made of rectangular profiled aluminium tube with dimensions: 100 x 50 x 4 mm.
The crossbar is equipped with a small truck and a blockwheel. The truck can be moved using a hand winch with a lock-system. The equipment can be moved outside the tripod and lowered into the sea.
Max. load at the end: 200 kg.
Heavy foot-plates ensure a stable operation of the equipment. Can be equipped with snow spears for arctic environments.
Control panel with emergency stop and joystick for speed regulation.
The 2 front bars of the tripod are made of square profiled aluminium tubes with dimensions: 50 x 50 x 4 mm. Leg #3 is made of rectangular profiled aluminium tube with dimensions: 100 x 50 x 4 mm. This profile is reinforced by welding another profile on the top.
A Bonfiglioli worm gear (self-locking) with a gear ratio of 64:1 achieves a max. speed of 30 cm/sec.
The worm gear has an emergency brake and a drum with dimensions: Ø320/Ø200 x 100 mm with a capacity of 200 m of Ø4 mm AISI 316 stainless steel wire 7 x 19. Max. load: 200 kg.
The gear is driven by an ABB motor, 3 x 400 Volt AC/1500 W.
Speed regulation by a frequency converter, (230 Volt AC/1500 W), which is built into a plastic box with joystick, switches, fuses and indicator lamps. Can also be equipped with a 230 Volt AC brake resistor (optional).