Rectangular lander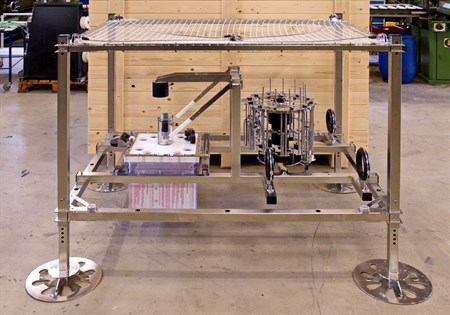 Study multiple paramenter fluxes by benthic chamber incubations
The Mini Chamber Lander is a lightweight unit for shallow water benthic chamber measurement of multiple parameters.
The system uses the latest microsensor and data handling technology ensuring you high quality data.
Completely automated in situ chamber incubations
Continuous deployment down to 300 m
Syringe water sampling and injections
In Situ Amplifier and Connector System for easy handling
Powerful Unisense Field DataLogger
Ready for optodes and RS-232 devices
Programming via an easy and intuitive PC software interface
Workshop and training at Unisense
The Mini Chamber Lander is designed for shallow-water chamber measurements with multiple microsensors (oxygen, H2, N2O, pH, H2S) mounted in the chamber lid. The syringes of the syringe water sampler are prepared by the user for either sampling or injection. More models of the water sampler can be found here.
Deployment is done by lowering the Mini Chamber Lander onto the seafloor. When it reaches the seafloor, the lid will close and measurements can start. Sensor measurements, stirrer activation, and syringe sampling is easy programmed via a PC software interface and data are simply exported to a PC after deployment for further analysis. Click here for a more copmpact design.
Click here for viewing a 3D visualization of the profiler.