Haps Corer with Vibrator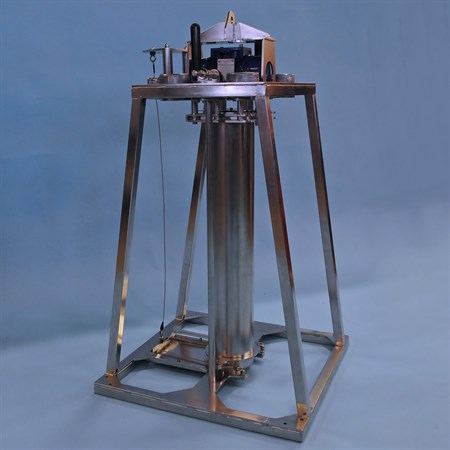 59.xxx series - Haps with vibrator:
Application:
The Haps Bottom Corer with vibrator functionality is highly suitable for taking well-defined samples from hard sediments. This can be seen by a clear water phase above the sediment surface. A video showing another model (50.000) can be downloaded here. The Haps is available in two sizes:

• 59.100 - Penetration depth: 80 cm (230 V AC/300 W)
• 59.300 - Penetration depth: 200 cm (230 V AC/650 W)
• Sample tube: AISI 316 stainless steel, 140/136 mm
• Emergency stop
• Control box: Polycarbonate, enclosure rating: IP65
• Connector: Subconn
• Cable: Polyurethane cable, 70 m (not shown)
• Finish: Electro polish
• Max. depth: 60 m

Increasing performance:
In order to stabilize the Haps in sea swells, and to sample in sandy sediments, the Haps has room for additional lead weights on the bottom frame. On request, a model supporting higher load can be provided.

Camera and light option:
The Haps supports adding a video and light system 19.680 CAM (requires a bracket for the mounting).