Table with heat and vacuum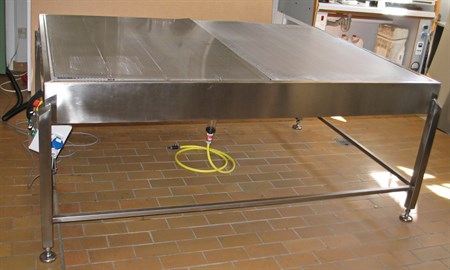 Table with support for heat and vacuum:
Application:
Table for restoration of flags, clothing, textile and other.
General:
• All parts are made of AISI 316 stainless steel
• Finish: Electro polish
Dimensions:
• Length: 208 cm (useable 200 cm)
• Width: 148 cm (useable 140 cm)
• Height: 85 cm
Heating:
• 3 x 400 VAC/3 kW
• Adjustable temperature
Vacuum:
• Adjustable, max. 60 L/min.
Washing:
• Support for using water and other liquids
• Valve at the bottom for draining the tub
Top of the table:
• Perforated steel plate
• Perforated nylon plate PA 6.6
• Small sandbags for fixing the textiles
Photos:
• Photos:© Anne Rostgaard Nielsen, Randers Kulturhistorisk Museum, Denmark.