Ockelman sledge, 30 x 15 cm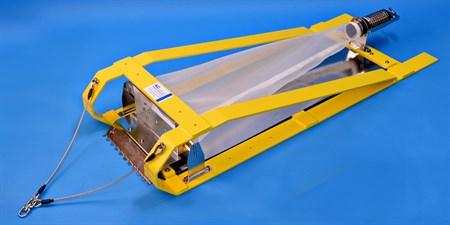 19.680 - Ockelman sledge:
Made from AISI 316 stainless steel
Opening, L x H: 30 x 15 cm, located 3 cm above the sea bed
Adjustable shovel plate with a row of teeth
Net bag: Mesh size 1000 µm
Net bag, length: 100 cm
Protection for net bag: Steel plate
Dimensions: L x W x H: 154 x 57 x 25 cm
Weight: 25 kg
Front:
The net opening is located 3 cm above the sea bed
Mounting of the net bag:
A solid fastening for the net bag will ensure a simple replacement
Net bucket:
Sample cylinder made of POM and AISI 316 stainless steel
It has 3 windows, slightly offset, so you can easily pour out the content.
The windows are covered by a net, according to the
mesh size of the plankton net.
The windows are protected by AISI 316 stainless steel
net at the outer side (mesh size 10 mm)
19.680 CAM - Complete camera and light option:
Mounting brackets can be offered for various types of oceanographic equipment.
• Materials: AISI 316 stainless steel
• Max. depth: 500 m
• Length: 50 cm, excl. Subconn connentors
• Width:
• Height: 19,5 cm
• Weight, complete system incl. cables: 26 kg
For all specifications, clich here.