Niskin Mini Rosette 12 bottles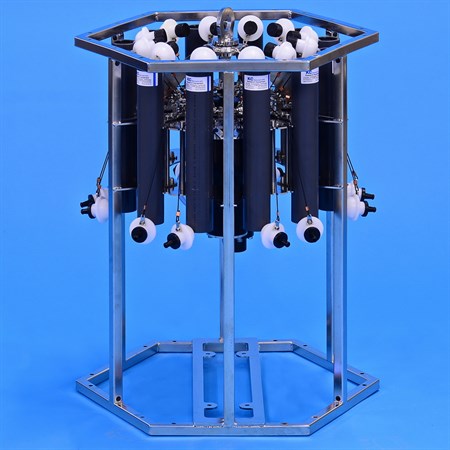 60.060 - Niskin Mini Rosette, 12 bottles:
General:
Rack manufactured from AISI 316 stainless steel, capacity of 12 Niskin water samplers, capacity up to 1 L.
Niskin bottles are non-metallic construction, so its interior is totally free from metal parts. End stopper closure band made of sea water resistant Para/Latex band. The standard battery and electronics come with a sleep mode functionality allowing deployment up to 12 months. For longer immersions we can provide larger batteries.
Features:
Niskin bottles are available in sizes of 300, 600 and 1000 ml.
Deployment up to 12 months with standard battery
Release system is motor driven (24 Volt DC)
Release manually or fully programmable with an optional time
lapsed trigger
Support for triggering by pressure
Trigger includes software: actual status for the samplers, battery voltage, motor current, etc.
Room for mounting of a CTD rack
6000 m depth rating (with 100.226 battery). For 4000 m use battery 100.217
Standard delivery:
The rosette rack does not include power supply, timer, cables and Niskin bottles. The accessories must be ordered separately.
Dimensions and weight:
Model 60.000 without bottles and battery cylinder: diameter 57 cm, height 75 cm, weight 31 kg.