Vacuum Filtration System 500ml/6 pcs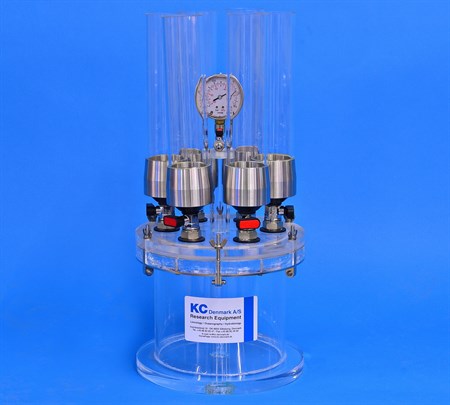 22.030 - Filtration unit, 6 x 500 ml for vacuum:
The upper and under parts are manufactured from AISI 316 stainless steel and the cylindrical tubes are made of acrylic.
Separate valves so the tubes can be used individually. Chamber for excess water for protection of the vacuum pump. The pump is sold separately.
Filtration unit, complete:
• Contents: 6 x 500 ml
• Support for vacuum
• 6 ball valves
• Vacuum indicator
• AISI 316 stainless steel
• Holder for filter paper: POM
• 6 acrylic tubes, OD/ID: 60/52 mm. Length 240 mm
• Filtration surface, each tube: 12,56 cm²
• Filter paper: Ø47 mm
• Diameter for the rack: Max. 255 mm
• Height, max.: 550 mm
• Weight: 8 kg