Small Stainless steel water sampler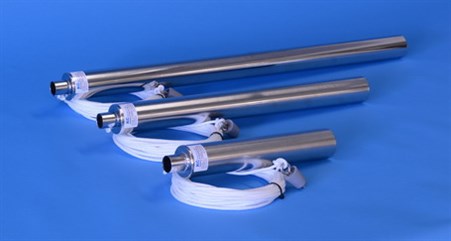 11.2xx series - Small stainless steel water sampler:

The water sampler is made of AISI 316 stainless steel with an outer diameter of 54 mm. Finish: Electro polish.
On top of the water sampler a rubber bung with 10 m of Ø5 mm rope is mounted.
Custom made Nylon lines with markers and various lengths can be made upon request see Hand winches and lines.
Stainless steel water sampler:
The water sampler shown from the top. Before deployment ensure the rubber bung is pressed down in the top part of the sampler, once the desired depth have been reached, you yank the line, and the rubber bung will open up, and your water sample will be taken. Recommended for a max. depth of 20 m.
| | | |
| --- | --- | --- |
| Description | Length/Weight | Ordering No. |
| Small stainless steel water sampler, 0,5 l: | 33 cm/1 kg | 11.210 |
| Small stainless steel water sampler, 1,0 l: | 58 cm | 11.211 |
| Small stainless steel water sampler, 1,5 l: | 83 cm | 11.212 |