Bongo net 2 x Ø30 cm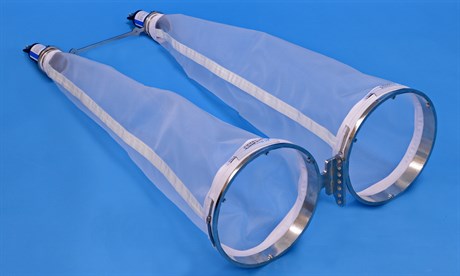 23.290 - Bongo net, 2 x 30 cm:
A bongo net consists of two plankton nets mounted next to each other. These plankton nets are ring nets with a small mesh size and a long funnel shape. Both nets are enclosed by a sample cylinder that is used for collecting plankton. The bongo net is pulled horizontally through the water column by a research vessel. Using a bongo net, a scientist can work with two different mesh widths simultaneously. Support of a V-fin depressor allows sample taking in various pre-defined depths.
• Diameter: 2 x 30 cm
• A larger version, having rings of 2 x 60 cm is available here
• AISI 316 stainless steel
• Standard delivery includes 2 nets (mesh size 300 and 500 µm)
• The net parts are available in other mesh sizes. Mesh size in the range 100 to 500 µm is available at same cost
• 2 collecting bottles with valves
• Support for V-fin depressor; requires wire 23.315
• Support for digital flow meter 23.090 and 23.091
• Finish: Electro polish
• Width: 73 cm
• Length incl. net buckets: 136 cm
• Length, net bag: 115 cm
• Weight: 5 kg
23.293 - Net bag:
• Made of Nitex Monofilament Heavy Duty material.
• Mesh size between 100 and 500 µm at same price.
• Diameter: Ø30 cm
• Length: 115 cm
• Other mesh sizes on request.
Spacer for the net buckets made
of AISI 316 stainless steel.
Support for V-fin depressor. The Bongo net can be operated in
conjunction with a V-Fin depressor to create negative lift
of the instrument.

Both net rings have eyes for attaching a flow meter for
determination of the filtered water volume.
23.311 - V-fin depressor
• Made of 15 mm AISI 316 stainless steel.
• Requires wire set 23.315
• Weight 12,4 kg


Digital flow meter:
The Bongo net can be equipped with a digital flow meter (optional) for determing the amount of water passing through the plankton net. Available models 23.090 (no back-run stop) and 23.091 with back-run stop.