Niskin rosette for ROV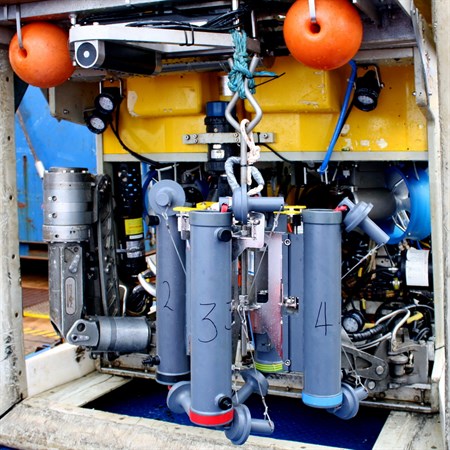 Rosette with 4 bottles for manual release by the ROV's arm:
General:
Rack made of AISI 316 stainless steel with support for 4 Niskin bottles. Designed for individual release of every bottle.

Niskin bottles:
The PVC tube section is a non-metallic construction, so its interior is totally free from metal parts. Drainage is via a Delrin stopcock (4.7 mm at the base), and an airvent screw. End stopper closure band is made of sea water resistant Para/Latex tubing. The lids have a spherical section sealing. AISI 316 stainless steel mounting clamps. The recommended wire diameter is 6 mm.
Standard delivery does not include Niskin water bottles, series 61.xxx. For more information click here.
Photos: Line Diana Blytt, Aquateam - Norwegian Water Technology Centre