Square lander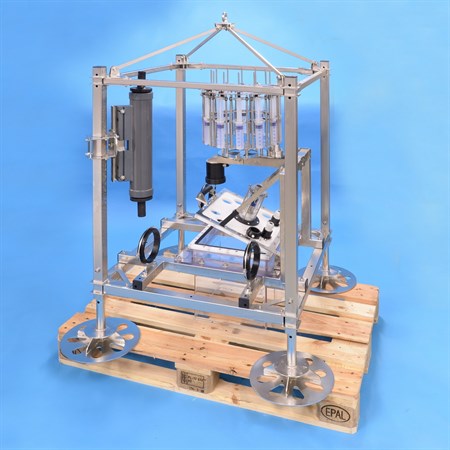 500.103 - Lander frame with a benthic chamber and various water samplers:
Small and compact lander rack made of AISI 316 stainless steel tube 40 x 40 x 2 mm with 4 adjustable legs. The standard rack can be configured with different items and accessories. This model does not have a buoyancy system, thus it must be deployed by a cable.

The current design includes these items:



100.210 - Multi water sampler:
Multi water sampler (AISI 316 stainless steel) with 12 pcs syringes, (50 ml) made of nylon (PA 6.6). A time lapsed trigger allows individual programming of each sample. For more details, click here. More models of the water sampler can be found here.



61.100 - Niskin water sampler:
Niskin water sampler 1,7 L; the sampler is stepless adjustable from horizontal up to vertical position. It is released with a burn wire system.
Benthic chamber with stirrer:
Manufactured from Polycarbonate, dimension 300 x 300 x 350 mm. The chamber has a flat bottom and the POM frame is mounted on the Polycarbonate chamber. The chamber has 16 powerful neodymium magnets for keeping the lid closed. The lid supports 8 pcs of sensors (Aanderaa or Unisense). At the middle, a pressure compensated motor ensures a steady stirring in the chamber. The lid is closed using a 24 V electromagnetic system.
The lid has a manifold for connecting the multi water sampler.
Dimensions:
L x W x H: 106 x 106 x 146 cm.
L x W x H, no feet and lifting point: 80 x 80 x 118 cm.
Weight: 87 kg.