Bottom scraper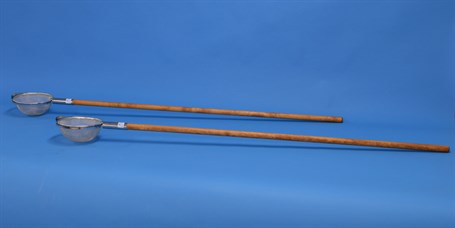 14.000 - Bottom scraper with 1,5 m wooden shaft:
The frame is made of a 200 mm diameter ring manufactured from an 8 mm AISI 316 stainless steel rod. The frame is reinforced by a cutting edge.
The steel sieve can easily be replaced by means of a screwdriver. The wooden shaft has a length of 1.5 m and has been treated with an acid hardened lacquer.
The frame for the sieve is laser cut from 8 mm AISI stainless steel and is manufactured for long-term professional use.
Description:
The spare part sieve 14.001, Ø200 mm, approx. 2000 µ.
The bottom scraper has been constructed, so it's easy to switch around the sieve if needed.
14.000 - Bottom scraper with cutting edge, wooden shaft, length 1,5 m, weight 1,2 kg.
14.001 - Spare part sieve, Ø200 mm, mesh size 2000 µ