Sandblaster, portable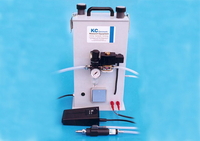 400.415 - Sandblaster, portable:
Portable sandblaster for all kinds of restoration of small metal and steel pieces, monumental rocks and church restoration.
The air regulator regulates the flow of powder and the working pressure. The sand blaster can be used with glass powder, aluminium oxide (corundum), and granulated nutshells or similar. Requires an air compressor with a capacity of 250-400 L/min. (2-4 HP), (optional).

• Container for plastic powder, contents up to 7 kg
• Manufactured from 5 mm impact reinforced plastic plates
• Power supply: 230 V AC
• Requires a compressor with capacity: 250 - 400 L/minute
• Requisite air supply: Max. 10 bar
• Reinforced air tube, diameter 8 mm, length: 5 m
• 1 pc foot switch
• 1 pc sand jet blower with Ø4 mm jet (400.080)
• Standard delivery does not include air compressor
• Dimensions: L x W x H: 20 x 10 x 40 cm
• Weight: 10 kg