Rosette with glass bottles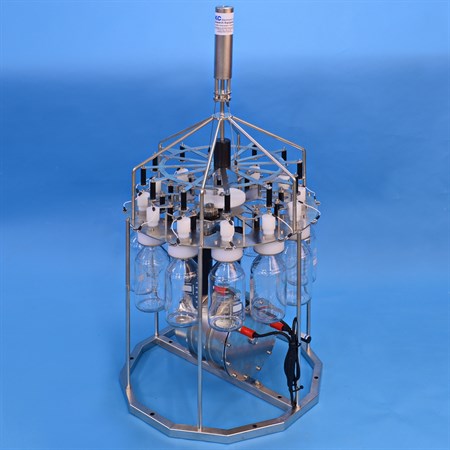 100.270 - Rosette with 12 glass bottles, each 1 L:
General:
Rack manufactured from AISI 316 stainless steel, capacity of 12 glass bottles, each 1 L. The bottles remain closed until the individual, programmable release takes place. Before the raising of the unit to the surface, a drop messenger will release a mechanism closing all bottles.
Features:
Depth rating: 500 m
Standard delivery comes with glass bottles of 1 L.
Other sizes on request
Release system is motor driven (24 Volt DC)
Release manually or fully programmable by mounting of
an optional time lapsed trigger
Support for triggering by pressure
Trigger includes software: actual status for the samplers,
battery voltage, motor current, etc.
Footprint: 59 x 59 cm
Height: 116 cm
Weight: 51 kg
Standard delivery:
The rosette rack does not include power supply, timer, cables and glass bottles. The accessories must be ordered separately.