Van Veen Grab 2000 cm²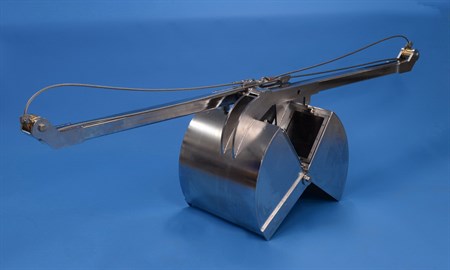 12.310 - Van Veen grab - 2000 cm²:
Application:
Sampler for collecting bottom sediments for biological, hydrological and environmental studies.

General:
The grab is based on the Van Veen design. It is made of AISI 316 stainless steel and the surface is electro polished. The grab itself is manufactured from 8 mm plate. Model 12.310 has 2 lids with stainless steel mesh and rubber mats to reduce the shock wave, as per Norwegian ISO standard (16665 Water quality - Guidelines for quantitative sampling and sample processing for of marine soft-bottom macro fauna). All models are equipped with either 2 or 4 lids so you can remove an undisturbed part of the sample without emptying the whole sample.
Other types of bottom samplers are made on request - please contact us for further information. Please check out our sieves.
Ordering No.
12.310
Sample area:
2000 cm² (L: 50 cm, W: 40 cm).
Sample volume:
50 L.
Materials:
AISI 316 stainless steel. The grab = 8 mm.
Lead weights, (13.315), optional:
Max. mounting: 4 x 10 kg.
Max. net weight = 135 kg.
Recommended wire:
6 - 8 mm.
Dimensions, open:
Dimensions, closed:

L x W x H: 245 x 55 x 63 cm.
L x W x H: 90 x 54 x 157 cm.

Lids:
2 lids.

Net weight:
95 kg.
Pallet for shipping:
L x W x H: 120 x 80 x 190 cm.